Delivery Information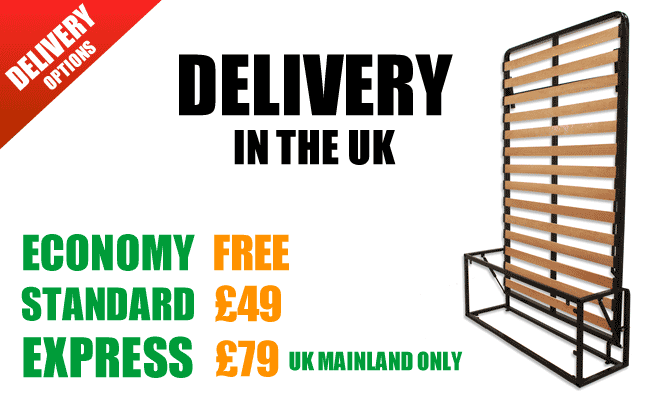 Economy Delivery - FREE
Wall Bed King offers you free delivery on all items! Order your wall bed using standard the economy option and you will pay absolutely nothing at all. Items will be deliverred to your address within 2 - 4 weeks. Perfect for those not in a rush.
Standard Delivery - £49
Standard delivery will speed up the delivery time, you can expect a delivery waiting time of around 1 - 2 weeks.
Express Delivery - £79
Super speedy delivery order today and expect to have items at your home within 2 - 5 working days! Express delivery can only be made to the UK mainland.
As many items as you want for only one price
Although we have three different delivery options these delivery fees are a flat rate meaning that you can add as many items as you want to the cart and pay only one delivery charge as detailed above.
Deliveries outside of the UK
We are able to deliver to all parts of the European Union and further afield. Please contact us before placing your order so we can confirm the delivery costs with you before shipping. Please note that items outside of the UK will not be shipped until we confirm the delivery charges with you.